Noticias
We help build a future for Piecitos students
Thanks to a Talent Scholarship from the Foundation, Liz Ferreira, a Paraguayan student, has finished her university degree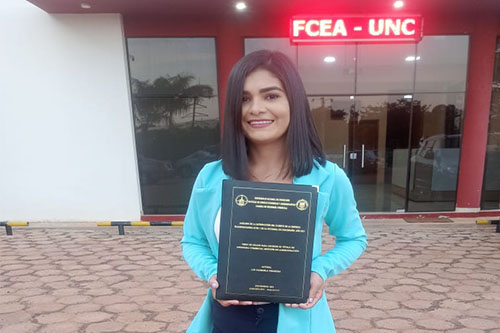 After five years of effort, challenges and a lot of dedication, Liz Gabriela Ferreira, an outstanding piecitos student at the Basic School No. 1889 San Miguel, has managed to finish her degree in Commercial Engineering at the National University of Concepción.
"Today I have the privilege of saying "YES I COULD". Completing my studies in Commercial Engineering is a dream I have longed for. It was not easy, but in life you always need to insist, resist and never give up. For 5 years I made an effort a lot to get to this moment and I can say that I feel very proud of having achieved it", said the student.
With this achievement, Liz has become the second university graduate from Piecitos Colorados in Paraguay: the Latin American country with the worst enrollment rate, and a 59% dropout rate.
Thanks to the support of the teaching staff and the work to raise awareness with families, at the Prosegur Foundation we monitor the students in our Development Cooperation program who show greater capacity for learning, effort and responsibility, to support them with a Talent Scholarship and that they can continue their studies.
"I am very grateful to the PROSEGUR FOUNDATION for the infinite help provided throughout my career. Now I feel ready to start working and continue training to contribute to the progress of my community," added Liz.