Noticias
New volunteering day with Aldeas Infantiles in Peru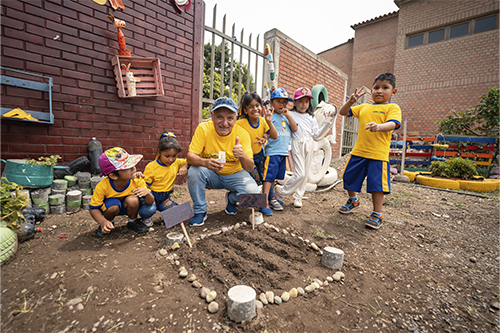 As a result of the campaign "Prosegur Protects Christmas", carried out by Prosegur Alarms, to support the social organisations Aldeas Infantiles SOS International and YMCA Asociación Cristiana de Jóvenes, on 14 April we held a new corporate volunteering day called "Sembrando Futuro" (Sowing the Future).
The purpose of this solidarity activity was to build their own bio-garden with the children of the Callao Children's Village (Peru) and to raise awareness among participants about the importance of having a garden of this kind: a small plot of land where all kinds of vegetables, aromatic and medicinal herbs are grown without using chemical inputs to control pests or fertilise the soil.
This workshop, held in the Constitutional Province of Callao, was attended by staff from SOS Children's Villages Peru and volunteers from Prosegur. The latter prepared the content and presented it in a fun way to the more than 40 children of the Village. Organised into teams, they shared out the tasks and tools and began the task of planting vegetables. All together they closed the activity sharing a snack and many experiences.
Thanks to the Prosegur professionals for making this possible!