stories
Bucking the statistics
This is Fátima Calonga's story of academic achievement. Piecitos' first university graduate in Paraguay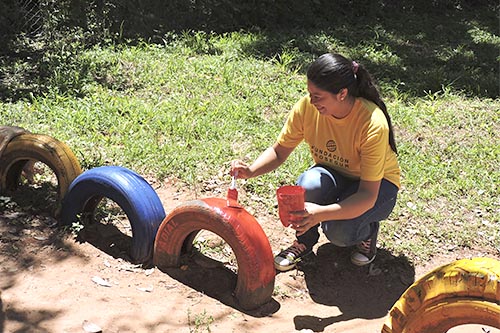 "My family is very humble and knows about sacrifice. My parents and my older sister have always been there to guide and support me, lending me all the necessary support and encouraging me to move forward through difficult moments so I can get the academic foundation to face life".
I entered Escuela Básica No.1889 San Miguel in 2009 to be able to complete my high school studies. At that time, the 50-year-old school building was in a state of great disrepair, with serious infrastructure problems. In fact, on rainy days we had to scramble to find some drip-free nook or cranny to continue studying. That is, until 2011, when the Prosegur Foundation came to improve the educational and recreational conditions by building new classrooms for the safety of the students, refurbishing the furniture, and also securing us an opportunity to access a library for the "first time" and also interact with technology.
The scholarship that changed my life
I graduated from high school in 2014, receiving recognition for my dedication, effort and good performance from the school directors, who encouraged me to apply for the Prosegur Foundation's Talent Scholarships to begin my studies in Commercial Engineering at Concepción National University. After the selection process, I was confirmed as a beneficiary, and the institution's first graduate! They gave me the opportunity to focus 100% on my studies without worrying about the financial aspects and with an even greater motivation to excel: feeling supported makes you even more committed to the goals you want to achieve.
The challenges of university life
The degree programme took 5 years, which was a long way to go. I had evening classes, and since I didn't live near the bus stop, my mum or dad would wait for me every day to pick me up. It didn't matter if it was hot, cold or raining. They were always waiting for me, and for that I am very grateful for every sacrifice they have made for me. My every achievement will also be theirs.
I faced challenges and obstacles during my time at university. Coming from a school in a rural area, where the most widely used language is Guarani, it was difficult for me to interact with my classmates and to make presentations in Spanish. It was a challenge to express myself and speak fluently in this language, but as time went by I lost my fears and became more confident.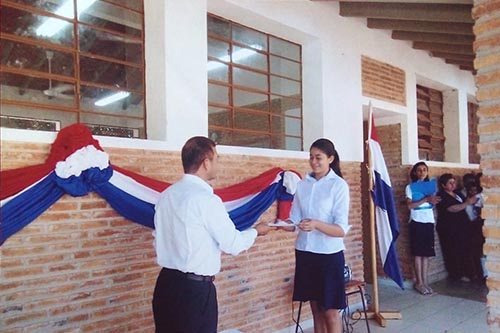 I also think it is important to emphasise that in order to graduate from the course, it was necessary to do an internship in a company. And this opportunity arose once again thanks to Prosegur, and specifically thanks to Oscar Carmona, the company's delegate in Concepción, who got me an internship for a month in a well-known commercial company in the city.
Graduation
I fulfilled my dream of earning my university degree in late 2020. And after all these long years, the day I have been waiting for has finally come: my graduation!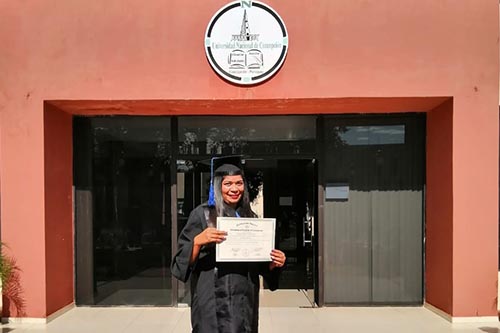 Today I look back and see how far I have come. It fills me with satisfaction, because the sacrifice and effort has paid off.
The FOUNDATION has profoundly shaped my life, proving its commitment to education as the only way to improve the future of young people.
That is why I would like to encourage more students to make it their goal to finish high school and pursue a university degree, to be better every day, because we can achieve everything with hard work and dedication. Never forget that with talent and the will to excel you will always find an opportunity.