Noticias
We support inclusion with our V Solidarity Race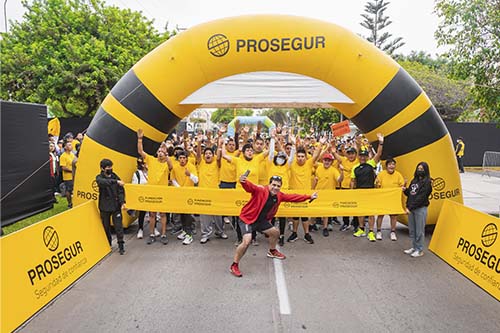 After the break in our face-to-face activities due to the pandemic, the streets of Lima (Peru) have once again been filled with yellow: the colour of Prosegur's commitment to promote respect and social inclusion of people with intellectual disabilities.
Thus, more than 500 employees, family members and participants with disabilities took part in the V Solidarity Race in which they ran 5km in two categories: Master, for regular runners; and Junior, for those who prefer to walk or jog at their own pace.
Each of the volunteers teamed up with a participant with a disability from the invited institutions to reach the finish line together. The aim of this accompaniment is for the pairs of runners to share the experience, learn about each other's stories of life and overcoming challenges, and understand the value of diversity.
Thanks to our partner Ann Sullivan, to the Municipal Offices of Attention to People with Disabilities of Barranco and Surco, to the CEBE Laura Saldaña or to the Cerrito Azul Centre for their support. And above all to the Prosegur Volunteers for helping us to create a more inclusive society.